Holistic Nutrition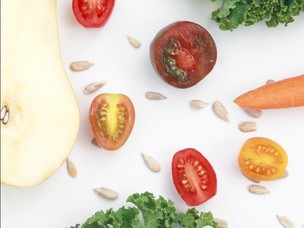 The practice of
holistic nutrition
is based on the principles of whole food, unprocessed ingredients and eating food with a mindful attitude. Eating holistically means we listen to our bodies and eat accordingly.
What is a Registered Holistic Nutritionist?
A registered holistic nutritionist (RHN) is granted their designation after completing a demanding course set by the Canadian School of Natural Nutrition. After a 1-2 year course is completed (with a minimum of 80% overall) along with case studies, a board and oral exam plus over 50 practicum hours – they are granted their designation.
What Holistic Nutrition can do for you?
Holistic nutrition can improve your immune system and benefit your health in many ways. Some benefits to a holistic diet include, improved digestion, hormonal balance, weight management, increased energy, stress reduction, decreased inflammation, restoration in blood-sugar levels, and improved recovery time.
Benefits of Holistic Nutrition
* Sustainable weight loss without restriction or deprivation
* Reduce cravings
* Improve quality of sleep
* Increase energy during the day
* Repair digestive complaints
* Stabilize moods
* Balance hormones
* Increase confidence because you know how to fuel your body
Eating for the mind, body & soul.
Holistic nutritionists look your health and well-being through a large lens, believing that each individual is biochemically unique. This means, along with nutrition we factor in your emotions, environment, relationship with food and daily habits.
We work on a personalized, individual basis and through diet and lifestyle recommendations work to restore balance. Together, we will discover what foods work best for your health, body and taste buds!
My role as an RHN, is to meet you where you are today, view you as a whole being and facilitate a path to your most vibrant self with encouragement and compassion.
Learn more about
Claire
!