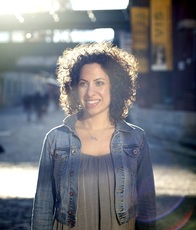 "Nada Ashkar, BHum., R.Ac. is a Registered
Acupuncturist
, classically trained Taijiquan (Tai Chi) and Qigong instructor and a meditation facilitator. She holds a combined Honours degree in Humanities and Philosophy from Carleton University through The College of Humanities.
Nada is continuing to deepen in her knowledge and scope of practice through the study of Chinese herbal medicine and advanced TCM training. She has trained in various martial arts since she was 10 years old, achieving her 1st degree black belt in Karate at 15 and is a senior student at Spiritwind Internal Arts with whom she has been training for the past 10 years.
Deeply passionate about supporting her patients in realizing their optimal state of health, her approach is informed by her own healing journey, through her gifts as a teacher, and her reverence for the traditional medicine arts. Nada elegantly combines Acupuncture, Nutrition, Meditation, Cupping, Qigong, Tuina massage with Life-style counselling and more to create a individualized, balancing and transformative experience for her patients.
"Medicine is intention. Those who are proficient at using intention are good doctors." ~ Sun Simiao (6th Century Chinese physician)
​
Nada is a registered member of the College of Traditional Chinese Medicine Practitioners and Acupuncturists of Ontario (CTCMPAO)."
Nada's Schedule
MON

2pm​ - 7:30pm

TUES

​-

WED

-

THURS

​-


FRI

-

SAT

-

SUN

​-