Registered Massage Therapy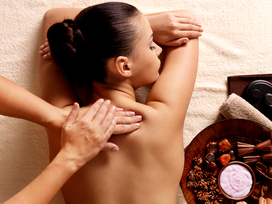 Massage therapy
consists primarily of hands-on manipulation of the soft tissues of the body, specifically, the muscles, connective tissue, tendons, ligaments and joints for the purpose of improved health. Massage can help promote circulation, pain reduction, and energy levels!
What can Massage Therapy do for you?
Our clinic offers a variety of massage techniques performed by our experienced registered massage therapists (Want to meet them?
Kenneth
,
Yukiko
,
Kendra
,
Eden
, &
Eric
) including deep tissue therapy, myofascial techniques, and Swedish massage; these services have a therapeutic effect on your body and promote relaxation by acting on the muscular, nervous, and circulatory systems.
Our clients have expressed various benefits from our treatments including improved physical function as well as relief from stress, physical dysfunction, and pain.
​
What to expect at your Appointment
Before a treatment, your
massage therapist
will propose a personalized treatment plan based on an initial assessment and health history. The assessment consists of various tests to determine the condition of your muscles and tissues. Once a thorough assessment has been completed your massage therapist will choose a
massage
treatment catered to your needs!